OVERVIEW
An axe designed to shred - with an awesome look.
Designed, assembled, and hot-rodded in Southern California, the LE924 electric guitar has pro-level features for the new breed of guitar hero. The offset double-cutaway, Louisiana swamp ash body, one-piece maple neck, flat-radius fretboard, and high-output DiMarzio pickups make this Laguna guitar ultra-responsive and a pleasure to play. The Laguna double-locking trem provides the tuning stability needed for aggressive whammy bar action. The AAA maple top with "Awesome Orange" finish caps off the distinctive look of an axe for a discerning player. Case sold separately.
'What can I say, it's pretty much everything I could ask for in a guitar. "-Greg Howe (solo artist; hard rock, shred, jazz-fusion virtuoso; and touring guitarist with Michael Jackson and Justin Timberlake)
LAGUNA GUITARS "ONE GUITAR, ONE TREE" REFORESTATION INITIATIVE
Laguna Guitars, reflecting the passionate convictions of musicians, celebrates Earth Day by launching their new "One Guitar, One Tree" reforestation initiative. This plan involves planting one tree for every Laguna guitar made. In addition, Laguna continues to deepen its other practical efforts to reduce waste, recycle and conserve the planet's resources.
For decades, musicians have proudly been socially aware and urged others to take more action, advocacy, and awareness in environmental matters. As musicians themselves, those at Laguna have always passionately supported that position, knowing that trees are an economical, long-term solution to many tough environmental problems, including air and water pollution, climate change, wildlife protection, habitat restoration, and more. In partnership with AmericanForests.org and their Global Relief campaign, Laguna proudly plants a tree for each Laguna guitar made.
In addition, Laguna's shipping cartons are designed to provide maximum protection with a minimum of material. Their boxes are made from 100% recycled cardboard that is also 100% recyclable, which they naturally encourage wherever possible. Also, in the interests of conservation, they have decided not to print glossy, heavyweight catalogs as millions from various companies end up in landfills every year. Instead, Laguna provides extensive information online at their website (www.playlaguna.com) and a catalog will soon be available as downloadable PDF's, allowing users to print only those pages they want.
As with the design and manufacture of their guitars, Laguna welcomes an open dialogue with musicians and encourages them to share their thoughts and ideas on environmental matters including Laguna's "One Guitar, One Tree" initiative and other earth-friendly plans. All such feedback can be directed to environment@playlaguna.com. Please visit PlayLaguna.com or AmericanForests.org for more information on the "One Guitar, One Tree" initiative and Global Relief campaign.
FEATURES
Body: Louisiana Swamp Ash body
Top: AAA flame maple flattop
Finish: Awesome Orange transparent finish
Neck: All-maple neck
Fretboard: Maple
Frets: 24 jumbo
Radius: 15.75"
Bridge: Laguna double-locking trem system
DiMarzio pickups: Air Norton S mini humbucker (neck) and GH5 humbucker (bridge)
Controls: One volume, One tone
Switch
5-way "Super Switch" pickup selector
1. Neck full humbucker
2. Neck pickup coils
wired in parallel
3. Both pickups, both coils
4. Inside coils of both pickups
5. Bridge full humbucker
Hardware: Brushed nickel, nickel locking trem
Finish: Transparent Orange
Case sold separately
The right tool for serious shredding. Order today!
(3 of 3 customers found this review helpful)
5.0
Best sounding guitar I own
By Eric
from Fort Worth, TX
Follow me
PROS
Excellent Pickups
Good Tone
Solid Electronics
CONS
Whammy Bar Tuning
BEST USES
Jamming
Practicing
Recording
Rock Concerts
Comments about Laguna LE924 Electric Guitar:
This guitar is unbelievable. The humbuckers sound great and the single coil split sounds equally crisp. I use each pickup on this guitar, which is a first for me. The only complaint I have is that the Floyd (licensed) doesn't hold tune very well, but maybe that's just mine. I'm experimenting with various things to overcome this.
The sound is just so good.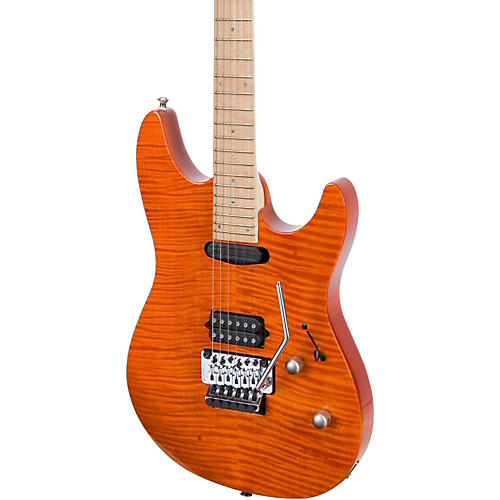 Công ty của chúng tôi không bán sản phẩm, chúng tôi chỉ mua dùm sản phẩm cho các bạn.
Các bạn không phải lo về chất lượng sản phẩm khi đặt hàng tại công ty chúng tôi.